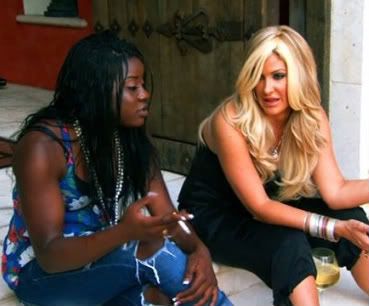 Sweetie Hughes, Kim Zolciak's assistant on "RHOA, is speaking out about her and Kim's controversial friendship and how NeNe Leakes is ruining her life. Deets inside...
During this season of RHOA, Kim Zolciak's friendship with her assistant Sweetie Hughes was questioned by a few of Kim's castmates who don't like the way Kim treats Sweetie. NeNe Leakes went so far as to call Sweetie a "slave" and that's where problems began for Sweetie in her personal life.
NeNe's allegation has taken on a life of its own with a "Free Sweetie" crusade that Sweetie says is ruining her life. Atlanta radio host
Rickey Smiley
launched the campaign on Feb. 16 after NeNe called his
morning
show
.
"They're doing it for Black History Month, and it offends me,"
Sweetie told
Life & Style
Magazine.
"They have pastors calling into the

radio

station

and praying for me. They've taken it too far. NeNe's jealous that she's not as close to Kim as I am. I've known Kim for 11 years, since I was a kid. Kim's a great friend to me. NeNe's traumatizing my life. She's bringing hell to it."



Kim is very upset with how this crusade is affecting Sweetie and has vowed to never speak to NeNe again.
"I never want to speak to NeNe again. My assistant Sweetie is so upset about the whole thing, she's beside herself
," Kim told
Life & Style
. "
NeNe has problems
."
Credit The Ybf